Name: Mr. Charlie
Mobile: +0086-15806693076 (wechat)
E-mail: sales@acrylicletter.com
E-mail: info@acrylicletter.com
Add: No 79-4,Yong An Street,Wendeng City,Shandong prinvince,China
Skype: mayacrylic




Product name : Eyelet Hand Press Grommet Machine Tool

Item : HP-3
Details:
Description:
This Eyelet Hand Press Grommet Machine is smart which is very easy to carry and convenient for shipping. The eyelet punch tool can exchange different die sets (3 different sizes of die set meet customers different requirements). It is very easy to operate because of the simple structure.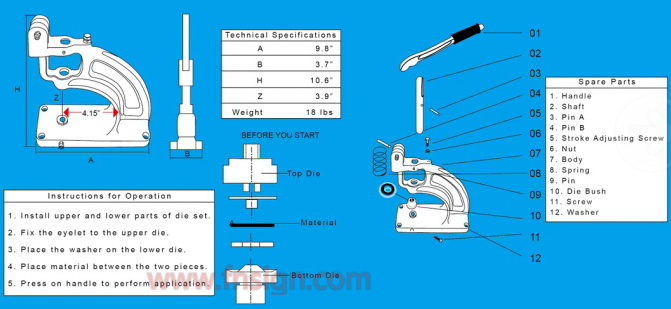 Eyelet Hand Press Grommet Machine
• Smart and convenient.
• Interchangeable Dies (#4, #5, #6)/ Die mold is customizable

• Allowing Grommets to be set further into the material, not just along the edge.
• Can be mounted to a tabletop or stand alone.

This practical die-changeable manual grommet machine is very essential equipment for punching Flex Banner, mesh, ,signs, awnings, posters,digital printing etc.


Note:
Available Grommet Sizes (inner diameter, outer diameter, height)
#4(10mm, 19mm, 6mm)
#5(12mm, 22mm, 7mm)
#6(14mm, 23mm, 7mm)
Note:

The price we provide above contains one machine and one mold.
If you want get one more mold, you can choose from our related products.