Name: Mr. Charlie
Mobile: +0086-15806693076 (wechat)
E-mail: sales@acrylicletter.com
E-mail: info@acrylicletter.com
Add: No 79-4,Yong An Street,Wendeng City,Shandong prinvince,China
Skype: mayacrylic




Product name : Manual Channel Letter Strip Bending Clamp,Plier

Item : FAW-Q
Details:
Manual Rapid Bending Clamp Bender is alos called Metal Edge Bender Pliers.

Aluminum,iron,stainless steel,luminous,characters bending tool,LED advertising letters seaming Pliers.

The Manual Channel Letter Strip Bending Clamp,Plier also called manual rapid bending clamp bender, which is a new bending tool, the latest production
Goods, light weight, fast bends, photometric ten years without fading.
Greatly improving the production speed, greatly reduce the cost of the work.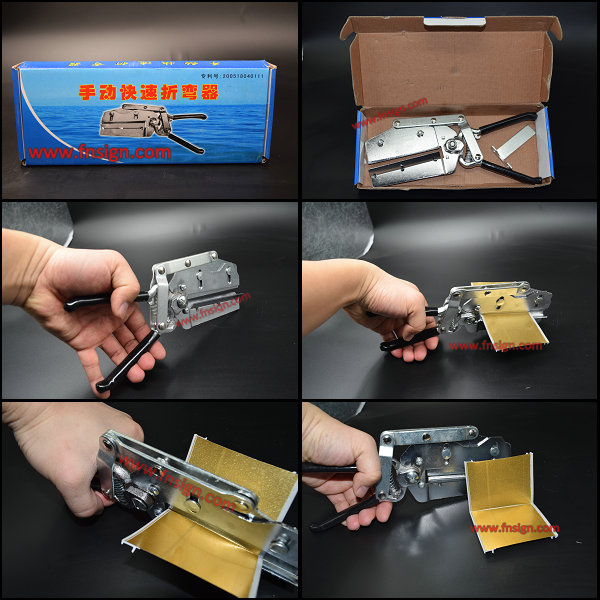 • Maintenance: Active site regularly filling seam
• sewing machine oil to guarantee lightweight card machine phenomenon out
• now
• Scope: the portable manual rapid benders apply to material thickness 0.6X width of 100mm or less tin edge / edge aluminum fiber / stainless steel luminous characterssidebar rapid bending use.
• Correction: In the process of doing word use daily, some attention Do not force the collision on foot, ready to test on foot with the blade at a 90 degree angle, this accuracy isvery important, very effortless.

Packing size 30cm x 12cm x 5cm, Gross weight 1.3KGS